How To Measure Spray Foam Insulation Density
Posted in Spray Foam Insulation, on February 07, 2022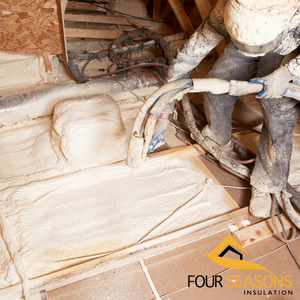 Spray foam insulation density is one of the many factors that can affect how well attic insulation in Mississauga performs. Insulation density is important because it affects how much insulation you get for each pound of foam that you put into your home. Too little density and you're wasting material; too much, and you're adding to your installation costs.
Information About Spray Foam Insulation In Mississauga
Spray polyurethane foam insulation (SPF) is the most cost-effective way to increase a home's energy efficiency. It offers up to three times more energy efficiency than fibreglass insulation, which is considered low-permeability insulation. The density of SPF - the weight of the foam in a unit of volume, divided by the volume - may also play a role in determining how much energy your home will retain.
Some indoor air quality experts believe that the higher the density of attic insulation in Mississauga the more likely it is that the insulation will contain harmful chemicals. Density varies between different types of insulation. In Canada, spray foam insulation that is used in homes must provide an R-value between 6.0 and 8.0 per inch (R-6 through R-8) based on IECC standard 307.
Calculating Spray Foam Densities
One way to measure spray foam insulation density is by using the following equation:
Density (lb/ft 3 ) = (Volume of Foam Used × Specific Gravity of Foam) ÷ Volume of Cellulose in Cellulose Blown-In InsulationDifferent Kinds Of Spray Foam Insulation Densities
High Density
High-density spray foam is the densest structure of spray foams available on the market. This high-density insulation has an R-value that starts at 5.5 per cubic inch. The density means a high volume of spray foam is used during the installation, approx 3lbs per cubic foot.
Medium Density
Medium density spray foam is the most commonly used spray foam, with an R-value ranging from 4.7 per inch to 6.5 per inch. Spray foam contractors/applicators use medium density foam because it is cheaper to make and easy to install. Medium density spray foam has the most simplistic application and is composed of one aerosol can of catalyst (hardener) and two tubes of base foam. The medium density Spray Polyurethane Foam is used as an all-around insulation for your home's walls, foundation, crawlspace and attic. It fits all of the needs of even the most demanding homeowners who have high energy bills or have concerns with moisture seeping into their home from the outside.
Low Density
Light density spray foam has an R-Value of about 2.5 per inch depth. Nominal wall thickness for light density is 3/8". This type of foam is more commonly used for insulation purposes and to achieve higher R-values and greater savings. The denser the foam, the more effective it is in insulating your home and keeping energy costs down. The material is fairly easy to install over studs and joists and it can be used to fill gaps between framing members. It's also not uncommon for light density foam to be used within siding applications like window or door jambs and siding seams, creating an effective barrier against moisture penetration and outside air infiltration that contributes to energy loss through thermal transmittance.
When it comes to home and attic insulation in Mississauga, Four Seasons does it all under one roof – removing insulation, providing air sealing, installing new insulation, and ensuring ventilation. For your protection, we are fully insured and our team of professionals is trained and certified by the experts at Walltite Spray Foam Insulation. Contact us today to learn more!
Read More on Spray Foam Insulation: