4 Reasons to Upgrade Your Attic Insulation in Toronto
Posted in Attic Insulation, on May 07, 2021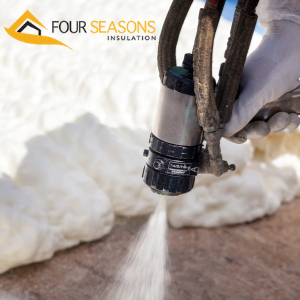 At Four Seasons Insulation, we could sing the praises of installing new attic insulation in Toronto all year long. Today, our blog will cover our top 4 reasons to upgrade your attic insulation and the benefits that new blown-in cellulose or spray foam insulation can bring to your home We'll give you a hint — the top reason to upgrade your insulation has a lot to do with your monthly energy bills.
Indicators You Might Need to Upgrade Attic Insulation
Before we get to our top reasons to upgrade attic insulation in Toronto, it's important to share some of the early warning signs your insulating is failing. If anything on our list sounds familiar, it might be time to book a free consultation with a Four Seasons Insulation technician.
High energy bills.
High energy bills usually indicate that the conditioned air created by your furnace or A/C unit is leaking out of your home.
Uneven temperatures.
Unusually hot or cold areas in your home might indicate where a lack of insulation, or failed insulation, is causing temperature irregularities.
Age.
Old homes often have little to no insulation and are certainly not up to code.
Water Damage.
Many older insulation types are susceptible to water damage and mold growth.
Rodents and pests.
Attic insulation can be severely damaged if squirrels, raccoons, bugs, or other pests invade.
What Are The Benefits of Upgrading
Lower energy bills.
Installing new attic insulation can often have a dramatic effect on your monthly heating and cooling bills. Attics often have a huge footprint, and areas with little or damaged insulation can leak air like a punctured tire. This causes your furnace to work harder and longer and your energy bills to climb.
Improved air quality.
Insulation does more than regulate the temperature in your home. It also helps to improve your indoor air quality. Spray foam insulation, for example, is an excellent vapour barrier that can help regulate moisture and humidity.
Better home comfort.
With many of us now working from home, home comfort is taking on new meanings. Drafts, hot spots, and exterior noise are all issues that attic insulation can help to control or eliminate, making for a more comfortable, quieter life.
Updated technology.
Many homes in Toronto have attic insulation installed 25 or more years ago when building codes and insulation technology were very different from today. Installing modern attic insulation brings many years of experience, science, and technologies to your home, resulting in better performing and more efficient products.
Easy Upgrades with Four Seasons Insulation
You don't always need to completely overhaul your attic to reap the benefits of new attic insulation in Toronto — sometimes, a top-up or maintenance is all that's necessary to start saving money and feeling cozy at home. To learn more about the types of insulation we offer or more about the benefits of modern products like spray foam insulation, call us at 416-724-4181.