Why Professional Mould Removal is Critical
Posted in Mold Inspection & Removal, on May 12, 2021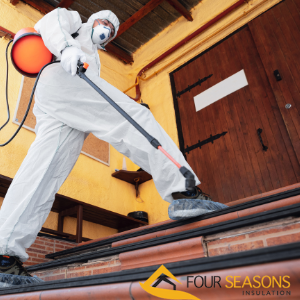 While discovering indoor mold growth is nobody's idea of fun, it's critical to approach mold removal in Toronto with safety foremost in mind. Mold is more than just surface discolouration, it can cause acute respiratory and health effects as well as costly structural and material damage to your home. Having a professional mold inspection in Toronto can help you catch an infestation early and ensure that you remain safe throughout the removal process.
Professionals are IICRC Certified
One qualification that you should look for when hiring a mold remediation team is professional certification. At Four Seasons Insulation, we're certified by the Institute of Inspection, Cleaning, and Restoration Certification, one of the central certification bodies for mold removal in North America and the world. The IICRC creates and sets standards for mould removal that keep technicians and families safe before, during, and after the remediation process and provides ongoing education for professionals in the field.
Professional and Safe Processes
Certification with the IICRC and similar organizations ensures that the contractor you're inviting into your home has the knowledge as well as the tools to perform safe and successful remediations. It means that Four Seasons Insulation technicians are working under the most rigorous and up-to-date guidelines in their field and that any tools, chemicals, or procedures we use are safe and effective.
Professional Mold Testing and Removal Services Include:
Air Sampling: The easiest and least invasive way to check for mold spores during a mold inspection in Toronto is to take an air sample, which can help us measure the concentration of spores in a given area.
Bulk Sampling: Air and material samples can be taken from both inside and outside your home to test what strains of mold are present.
Home Mold Inspection: Buying a new home or moving? The average home inspection won't look for mold — so book a mold test to happen concurrently and learn a lot about a potential property.
Mold Removal: A thorough mold removal doesn't just get rid of mold, it also helps you identify the cause or reasons behind the infestation and enables you to solve them.
What Happens During a Mold Removal?
Three steps happen during most mold removals in Toronto:
1. Containment
The area with mold is isolated to prevent it from spreading.
2. Removal
Contaminated materials are cleaned or safely removed using various methods.
3. Cleaning
Both the air and the surfaces are thoroughly cleaned to capture every last spore and prevent a re-infestation.
Discovering mold growth can be scary, but it doesn't have to be with Four Seasons Insulation. We can safely remove any contaminated insulation materials, thoroughly clean your attic, and safely install new insulation that's going to help keep your home safe and comfortable all year long. Have questions about the IICRC or mold removal in Toronto? Our staff would be happy to tell you more about we test and inspect for attic mould. Call our office at 416-727-4181 to speak to a member of our team or get a quote online.