Mold Inspection Services in Mississauga
Posted in Mold Inspection & Removal, on May 18, 2021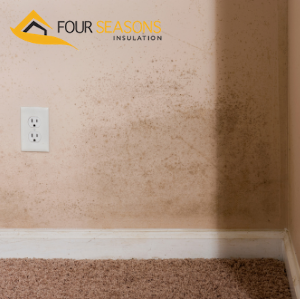 Indoor environments affected by mold spores are harmful to your health and wellness, making mold inspection in Mississauga a valuable tool for early detection. Mold testing and removal can identify any potential issues and help you make healthy choices to reduce your family's risk.
Mold growth can be highly toxic and is always a cause for concern — it can affect healthy people of any age and has more severe effects on those with respiratory conditions like asthma.
At Four Seasons Insulation, we know there is only one solution: professional remediation that eliminates the risk of mycotoxins, contaminants, and damage.
Signs Of Mold In Your Mississauga Home
It can be challenging to tell if there's mold growing in your home because many of the signs of mold growth mimic other common household issues. We often advise homeowners to keep their eyes peeled for moisture or water intrusion — if you have had had a leak or a recent flood, mold often appears afterwards. The same is true for homes with high humidity. Attics with insufficient insulation can trap moisture, which encourages mold growth.
Some common early signs of mold include:
A strange, musty smell
Headaches or allergies
Cracked paint
Discolouration
Condensation or humidity
Why Does Mold Grow?
Outdoors, mold is an integral part of the natural recycling process, where it helps plants and other materials break down. It's when we find mold indoors that it's a problem! Mold thrives in damp, moist environments and prefers being undisturbed in areas where there isn't frequent airflow.
Common Areas Mold Grows
Unfortunately, our homes can inadvertently create the sort of environment that mold prefers. At Four Seasons Insulation, we commonly find mold in places such as:
The attic
Exterior walls
Window and door frames
Basements
The Importance of a Mold Inspection
Mold testing and removal is essential for two key reasons:
It Protects Your Health
Mold can cause serious illness. Beyond sneezing, headaches, itchy eyes and other allergic symptoms, mold can affect your sleep, skin, cognition, and your energy levels. If you have family members with suppressed immune systems or respiratory issues, mold exposure can cause acute illness and hospitalization.

It Protects Your Home
Mold eats away at the surfaces it grows on, such as wood, textiles, flooring, windows, joists, drywall, and much more. Damage to these parts of your home can weaken the structure and result in thousands of dollars of remediation and repair costs if left unchecked.

Because mold is toxic and easy to spread, we recommend professional mold remediation for any mold growth — even small patches or areas. At Four Seasons, our trained teams ensure your safety by containing our worksite and using the latest tools and procedures to assess and remediate any mold growth. To learn more about mold in your home, book a mold inspection in Mississauga with Four Seasons Insulation, and let us take a look. Contact the Four Season Insulation team at 416-727-4181 to ask about our services.