Keep The Heat Out With Proper Attic Insulation
Posted in Spray Foam Insulation, on June 04, 2021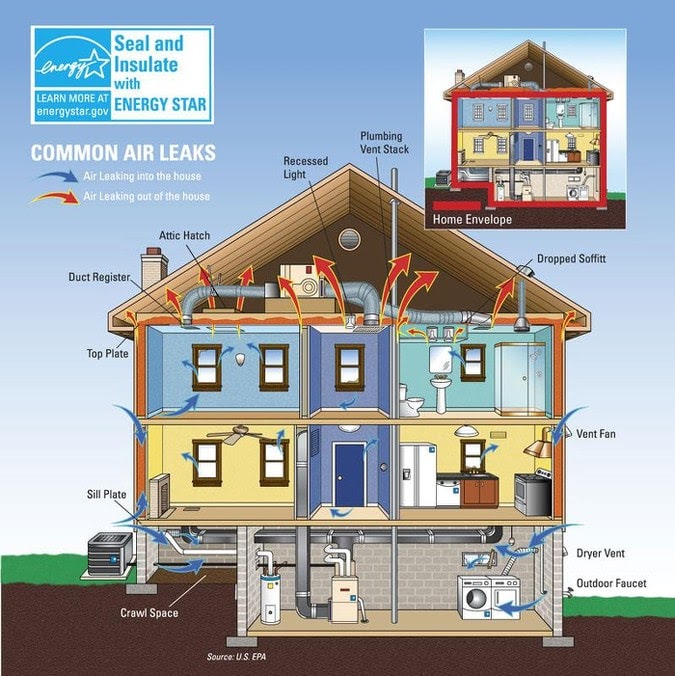 As the humid days of a Southern Ontario summer approach, the importance of attic insulation in Toronto does not lessen — it grows! As a premier insulation company in Toronto, the team at Four Seasons Insulation knows that insulation isn't just a cold-weather improvement but something that helps in all seasons. While it may at first seem counter-intuitive to improve your attic insulation for the summer, the truth is that insulation works just as hard in July as it does on the coldest day in January.
Heat Moves to Cool Places
While it's true that heat likes to rise, that doesn't mean it's pushing cooler air down towards you or that it can't move in different directions. The study of thermodynamics makes the rules clear: heat moves from warmer to cooler, air pressure moves from higher to lower, and moisture always goes from wetter to drier.
When it comes to your home, this means that if your upper floor is warmer and your ground floor is cooler, you're likely to experience slow warming of the ground floor as the heat moves into the cooler area. Heat uses three different methods to travel around your home.
Three Types of Heat
There are three different methods by which heat moves around your home: radiation, convection, and conduction.
Radiation
Attic insulation in Toronto can help prevent heat radiation in the summer months by acting as a barrier between the sun and your air-conditioned spaces. Radiation is the movement of heat from a warm object (in this instance, the sun!) through space into a cooler object (your home).
Convection
This type of heat transfer happens via the circulation of a gas or liquid, such as air or water. Convection heating is how our furnace keeps our home warm in the winter months: heat is created by the burner and then circulated through the house via the air handler and ducts.
Conduction
Conduction happens when two objects of differing temperature touch. A familiar example of conductive heat is what occurs when you pick up a hot cup of coffee and need to immediately put it back down — the heat of the liquid conducts quickly through the cup to heat your hand.
How Insulation Can Keep Your House Cool
So what do the three types of heat and the laws of thermodynamics have to do with your home? A lot, as it turns out!
During the hot summer months, heat generated by the sun radiates onto the roof of your home, which conducts it into the attic. Suppose your attic isn't adequately insulated or has a lot of air leakage. In that case, that heat will continue to move via conduction and convection from the attic floor into the cooler rooms below. Because heat always moves to cool places, this process keeps moving heat throughout your home until you're feeling uncomfortable and hot.
Let's not forget the knock-on effects of this type of heat movement. If your rooms are heating up, you're more likely to crank your air conditioner to stay cool, resulting in higher energy bills at the end of the month. All that cooling is hard work for your a/c unit too, — longer hours translate directly into a shorter life span and more frequent repairs.
Now, if only there was a solution….
Fixing the Problem with Insulation
Installing new attic insulation can cut the effect of heat radiation during the summer months and prevent conduction from happening. At FourSeasons Insulation, we've seen firsthand how new attic insulation has helped homeowners transition between the seasons with minimal disruption to their indoor comfort and routine. Working with a professional insulation company in Toronto means your home's unique features are taken into account to maximize the efficacy of your insulation and address any issues you have with comfort.
As local professionals, the team at Four Seasons Insulation knows exactly how hot and uncomfortable a Toronto summer can get when your home isn't adequately insulated. To learn more about how radiant and convective heat affects your home, get in touch with our team and ask for a free quote.