Who To Call When You Need Attic Mold Removal in Mississauga 
Posted in Attic Mold Removal, on June 10, 2021
Mold is a problem that many homeowners dread. When you need mold removal in Mississauga, our instinct is to get it done as soon as possible — but it's worth your time (and money) to work with a reputable mold contractor. Going the professional route has several key benefits that make it worthwhile and essential to a long-term solution. FourSeasons Insulation is one of the top attic mold removal companies in Mississauga and can help you navigate mold testing and removal.
Why Eliminating Mold is Important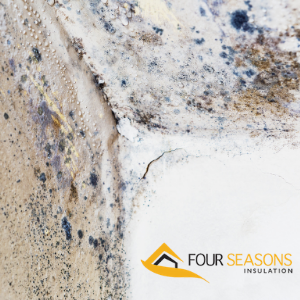 Mold growth is unsightly and unsafe, and it is essential to get rid of it as soon as you're aware there's a problem. But why? Mold problems in the attic have several effects that reach every room and affect anyone, even the healthiest person.
In the first place, mold damages your home. It eats into wood, paper, textiles, and other organic materials. While losing a few family photographs is heartbreaking, needing thousands of dollars of emergency renovations hurts differently. Mold is also the symptom of other home issues, like humidity, leaks, or floods that can cause damage and make your home uncomfortable to live in.
But the number one reason why eliminating mold is important is your health. Mold spores first affect your respiratory system and can cause sneezing, itchy eyes, and congestion. But it also has more sinister effects — studies have found that mold exposure can reduce your productivity at work, disrupt your sleep, and have other serious cognitive effects. This is why swift mold remediation is an integral part of home safety.
How Professionals Safely Remove Attic Mold
When it comes to mold removal, the safest and most cost-effective approach to attic mold removal is working with a professional mold removal company like FourSeasons Insulation.
We know how, why, and where mold likes to grow in the attic, find hidden infestations, and give you valuable insight to prevent future problems.
We have professional-grade tools, air filtration, and techniques to keep you safe and avoid contamination.
We've been practicing and educating our teams in the latest mold remediation technology and best practices — ensuring that we're ahead of the curve.
We've been to many homes where a weekend warrior has accidentally put their foot through the ceiling or missed a spot and needed to remediate again — the professional approach eliminates mistakes like this. It ensures that your mold removal is done right the first time.
How to Prevent Mold Growing in Your Attic
Preventing attic mold growth is easier than you think, and FourSeasons can help with this too. Let our attic specialists take a look upstairs, where we can often help you diagnose and fix common attic faults such as:
blocked soffits
high humidity
air leaks
sheathing degradation
roof problems
broken or damaged baffles
vents that end in the attic
inadequate insulation
pests
The attic can be affected by all sorts of internal and external factors, and one small change can easily throw the complex relationship out of balance. Knowledge of thermodynamics, building code, roofing, mold growth, and insulation are all part of successful mold removal in Mississauga, making it slightly more complex than the average DIY.
We think our HomeStars rating speaks for itself — but if you're looking for friendly, prompt, and reliable service, FourSeasons Insulation is here to help! Our team would be happy to answer your questions about attic mold and provide a free quote for any of our mold remediation or attic insulation replacement services.