2022 Buying Guide for the Best Home and Attic Insulation
Posted in Attic Insulation, on March 25, 2022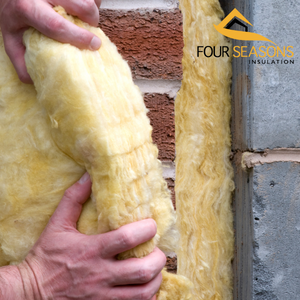 The best renovation you can for your home is one you can't even see — home insulation in Toronto might be invisible. However, it's still the most popular reno in your neighbourhood for an excellent reason! If you're thinking about how to save money on your monthly heating and cooling bills, want to eliminate drafts, or improve your temperature regulation, then you've come to the right place. Four Seasons Insulation's attic insulation in Toronto can help you do this and more — read our buying guide to help find the best solutions for your home and attic.
How Does Insulation Work?
Before we dive into the types of insulation on the market, you first have to know what it is. Insulation keeps your home warm in the winter and cool in the summer. It's a material that acts as a thermal barrier between your interior environment and the exterior — like a winter coat does for your body in the winter. Different areas of your home, such as the attic, basement, exterior walls, or garage, can be insulated.
Type of Home Insulation in Toronto
At Four Seasons Insulation, we generally use two types of insulation.
As the name suggests, blown-in insulation is created by small fibres that are blown into place. Blown-in insulation is a popular choice for attic insulation in Toronto because the small spaces and unusual layouts of many attics make other options time-consuming and difficult. One of the most popular materials for blown-in insulation is cellulose fibre, which is usually made from recycled paper.
Spray foam insulation is a modern high-performance insulation. It is made from polyurethane foam that is sprayed into place. It also excels in attics but is equally valuable used in crawlspaces, basements, and exterior walls.
How To Determine What to Get
With many different brands and types of insulation on the market, what should you choose? At Four Seasons, we'll help you decide what's right for your project and budget. In our experience, each home has a different set of needs — your neighbour may want to eliminate cold bedrooms, while you may want to lower energy bills. We'll listen to your concerns and help you choose a product that will make economic and efficient improvements.
Which are the Best Value For Your Home?
Here are some typical R-values to keep in mind when looking at new home insulation in Ontario.
A ceiling with an attic space needs R60-R80 for best performance.
A ceiling without an attic needs R31-R35
Above grade walls needs R22-R24
Basement walls needs R15-R24
Get Help Choosing Insulation!
If you're feeling overwhelmed, let the experts at Four Seasons Insulation walk you through the process of adding new home insulation in Toronto. Our friendly and helpful technicians will do a complete assessment of your attic or basement and offer you a range of options (as well as our opinion!) on what might best suit your needs. Reach out to us through our contact page to learn more.