Why Insulate Your Attic
Posted in Attic Insulation, on January 27, 2021
Attic insulation in Mississauga is the best gift you can give to your home - this invisible but crucial home improvement may not wow your guests, but it does reap its own rewards, especially when it comes to energy efficiency, indoor comfort, and more. From loose fill to spray foam insulation, words like 'R-Value', top-up and complete overhauls, there's a lot to know about attic insulation - but the most important thing of all is why.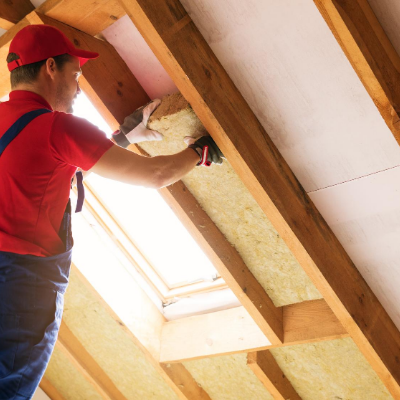 Why Install Attic Insulation?
Attic insulation is a crucial component of a healthy and well-functioning house. Just like the human body, your home needs attention and maintenance to be at its best and keep your family comfortable and healthy. When we visit homes without adequate insulation, residents often complain of the following three problems.
The House is Uncomfortably Cold or Hot
Attic insulation is like a hat - it shades your home from the bulk of the summer heat, and, in the cold months of the year, keeps all of the warm air from streaming out. In Mississauga and the GTA, our temperatures fluctuate in a huge range, anywhere from -30º in the winter to +30º in the summer, making insulation a key part of your home's temperature control.
You Have Huge Energy Bills
The cost of heating and cooling our homes gets more expensive every year, but attic insulation plays a key role when it comes to lowering that bill. Having an uninsulated attic is like leaving a window open all year long - it lets all of your conditioned air (and the money you spend making it) fly right out through the roof. If you're constantly losing your warm air, your furnace (or air conditioner) needs to run more frequently to keep your house at the temperature on the thermostat, and keeping it running all the time will result in greater wear and tear and an increase in maintenance costs - or even a complete replacement, which is pricy!
Your Home is Damp or Smelly
Attic insulation also plays a role in keeping other parts of your home running smoothly. Whether it's helping to prevent mold growth, drafts, or insect infestations, insulation makes your living environment more comfortable. And consider this - with so many people now working from home, your indoor environment has a bigger effect on your health, sleep, and routines than it ever has before.
Improving The Attic Has a Whole-House Effect
Attic insulation isn't a sexy home improvement - in fact, once it's installed, you rarely need to see it or think about it again, other than the odd attic inspection. As attic insulation specialists, the team at Four Seasons Insulation is one of the most trusted insulation contractors in the GTA. Whether you live in a century home or a new build, improvements to your attic insulation can make a huge difference in your daily life. For more information on attic insulation in Mississauga or a free quote, give us a call at 416-727-4181 or visit our contact page for more information.