Why Choose Spray Foam Insulation For Your Oakville Home
Posted in Spray Foam Insulation, on June 28, 2022
It's normal for attic insulation in Oakville to deteriorate, especially if years have passed since you've last upgraded. But knowing when and why you should upgrade your attic insulation to spray foam insulation in Oakville can be tricky, as the signs aren't always clear. If you haven't already done so, you should consider upgrading to spray foam insulation, as it has several benefits.
At Four Seasons Insulation, our mandate is to offer eco-friendly insulation solutions at affordable prices. We've been helping homeowners find the best type of insulation that fits their property's needs for the last 30 years.
This blog will outline the benefits of spray foam insulation and why you should consider upgrading your attic insulation now.
Why Choose Spray Foam?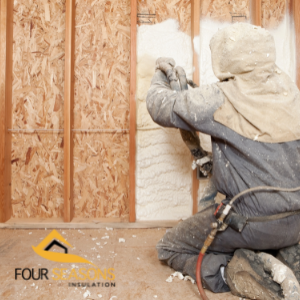 Spray foam insulation in Oakville is the ideal type of insulation for reaching and filling inaccessible areas of your home. This form of attic insulation in Oakville guarantees improved coverage and protection.
Spray foam insulation typically has a high R-Value, making it a great resistance to heat. The higher the R-Value, the better the insulation can control your home's climate and its energy efficiency.
Spray foam's high R-Value also makes it proficient in acting as a vapour barrier, limiting the spread of moisture and mold outbreaks. In addition to moisture and mold, this type of insulation also acts as an air barrier and can seal your home from air and allergens.
No matter how wet your spray foam insulation may get, it still retains its performance and properties, unlike other forms of insulations that need to be replaced after getting wet. And with spray foam insulation reaching the far corners of your attic, you don't have to worry about water seeping into nooks or crannies.
With spray foam insulation's air-tight seal, you can expect a more consistent climate in your home. Your home will be protected from natural elements, keeping dry, warm, and comfortable. Your home's air quality will also improve as spray foam minimizes airborne allergens and harmful contaminants from circulating.
Spray foam insulation is eco-friendly and is easy to install. The foam is sprayed until place using a foam gun, and dries relatively quickly. No matter the season, spray foam can be installed with ease.
Most importantly, spray foam can last you decades, thanks to its inherent properties. It's composed of powerful chemicals (polyurethane and isocyanate) that expand and harden when they react. Once the foam is sprayed, it stays put for years.
Spray Foam Insulation in Oakville With Four Seasons
Four Seasons Insulation offers lifetime insurance on our spray foam insulation products. We can install the spray foam in an efficient and timely manner. Our team of experts is trained in professional installation, so you don't have to worry about any redos or underperformance.
In addition to the benefits above, Four Seasons Insulation recommends spray foam insulation for your attic to help create a quieter living space. The risk of ice damage is reduced and you don't have to worry about the insulation sagging anytime soon.
Contact Four Seasons Insulation now to see how we can help you upgrade your attic insulation.