Signs Your Attic Insulation is Susceptible to Mold
Posted in Mold Remediation, on July 04, 2022
Insulation is an integral element of a healthy home. It maintains energy efficiency, comfortable temperatures, and keeps moisture levels at a minimum. Unfortunately, sometimes your insulation may become ineffective, causing pesky mold spores to sneak into your attic and infiltrate your insulation, ultimately resulting in the need for mold remediation in Toronto. For advanced and comprehensive mold removal in Toronto, contact Four Seasons Insulation; our trusted and knowledgeable team of attic insulation specialists will help you enhance the air in your home and eradicate mold.
Is your attic susceptible to a mold outbreak? Read on to find out.
Signs of Mold in Your Attic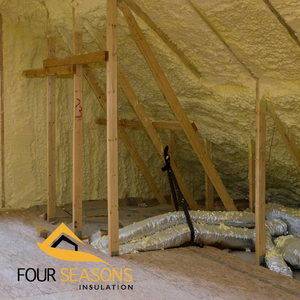 Most attics provide the perfect conditions for mold growth — lack of airflow, low light, and high moisture — so it's essential to check every now and then for potential mold outbreaks. Without annual inspections, mold will likely grow and flourish throughout your attic, especially within your insulation. To avoid the stress of discovering an expansive mold outbreak and needing mold removal in Toronto, detecting signs of mold early on is imperative.
Smell and Appearance
If you smell the stale, musty odour that belongs to mold, it's a sure sign that there's a problem, and you'll need to seek out the infestation. Mold will appear in dark spots and patterns throughout your attic and insulation. If you notice those particular spots scattered throughout your attic or insulation, contact Four Seasons Insulation for effective mold remediation in Toronto.
Leaks and Water Damage
If you don't see or smell mold, but perhaps notice a leak or previous water damage in your attic, your attic insulation may be at risk of a mold infestation. With high moisture levels, whether it be from a leak, a burst pipe, or water damage that wasn't adequately restored from before, mold could quickly infiltrate your attic insulation.
Temperature Fluctuations
Inconsistent temperatures in your home, like if your upper level is significantly warmer than the lower level in the summer, could mean that your insulation has already been affected by mold growth and needs to be replaced. Additionally, if your attic feels warm and stuffy due to poor ventilation, which will easily trigger mold growth and affect your insulation.
Professional Mold Remediation Services in Toronto
If you notice your home has an increase in moisture or inconsistent temperatures, or if your attic may have fallen victim to water damage, keep an eye out for mold growth. If you've identified mold in your attic and insulation, the next order of business is to contact a professional for mold remediation in your Toronto property.
For thorough and efficient mold remediation services, contact Four Seasons Insulation today.