What are the Advantages of Attic Insulation?
Posted in Attic Insulation, on May 03, 2021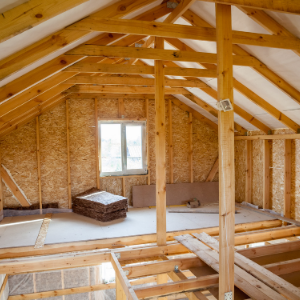 The advantage of a new kitchen is easy to see - but what about an invisible home renovation like attic insulation in Mississauga? What value does it bring? At Four Seasons Insulation, we find that homeowners commonly believe that insulation is only about keeping your home warm in the winter — when the truth is it's so much more! New spray foam insulation improves your home's energy efficiency and can save you anywhere from 10-50% on your heating and cooling bills all year long. It can also help you protect significant investments like your roof by preventing ice damming and condensation.
How Attic Insulation Benefits You and Your Roof
Insulation is the last thing on many people's minds — it's difficult to see, it doesn't look like much, and it requires no maintenance. But unlike other common home improvements, adding or replacing your attic insulation has a positive effect on other parts of your home, such as the roof.
Our roofs take the brunt force of Canadian weather all year round; whether it's snow and wind in the winter or the blazing sun in the summer, your roof and attic work together to keep the exterior weather from affecting your interior environment. Attics with poor insulation often have damaged or short-lived shingles and roofing materials. During the winter, ice dams can build up, wrecking gutters and pulling down soffits, while in the summer, condensation may form and grow mold or damage joists.
New insulation prevents and deters these common issues, helping your roof remain sturdy and damage-free regardless of what the weather throws at it.
The Advantages of Attic Insulation
At Four Seasons Insulation, we think the top five advantages of attic insulation are:
1. Lowers your energy bill.
Insulation prevents energy loss by creating a barrier between the inside and outside of your home. The better this barrier, the less time you need to run the furnace or air conditioner, and the more money stays in your pocket.
2. Stops air leaks.
Home air leaks are like a slow leak in a bicycle tire — the longer you ride on it, the worse it gets. Products like spray foam insulation help stop up air leaks that cause drafts or hot spots indoors.
3. Prevents moisture.
If air can get in, so can moisture. Spray foam is both an air and vapour barrier that can help ensure your attic stays dry all year long.
4. Increases re-sale value.
New attic insulation is a strong selling point for potential homebuyers because it has long-term value, lasting 20-30 years in the right conditions.
5. Stabilizes air temperature.
Balancing your thermostat is much easier when there is adequate attic insulation regulating your home from the top down.

Do you want to learn more about installing new attic insulation in Mississauga? There are many more benefits and advantages to this overlooked home improvement that will improve your home all year long, and Four Seasons Insulation technicians are available by phone or email to help you learn more about attic insulation for your home.