Understanding the Types of Mold Removal Methods in Toronto
Posted in Mold Remediation, on October 25, 2021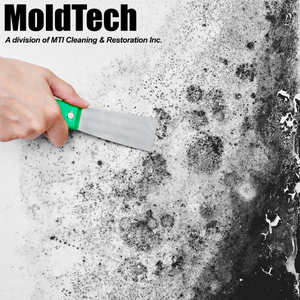 Tool selection is an essential part of getting a job done right, which is why successful mold removal in Toronto needs the professional touch! Four Seasons Insulation's detail-oriented attic mold removal process strips your attic back to the basics, providing a clean and empty space that's guaranteed mold-free. Continue reading this article to learn more about the methods we use for mold inspection in Toronto and the GTA.
The Non-Variable Air Testing Method
Quick, easy, and non-invasive — that sums up the non-variable air testing method in a nutshell. This method of mold testing is one of the most commonly used. First we use a small plastic cassette to take an air sample from an affected room or space. Later, we send this cassette to a lab where the contents are investigated under a microscope to detect the presence of spores as well as other indoor air quality pollutants. This mold test provides basic answers: yes, or no. It usually cannot discern between types of mold growth or even determine the concentration of spores.
The Viable Air Testing Method
In contrast, this type of mold test takes more time but provides more thorough detailed results. In a viable mold test, a small air sample is cultured in a laboratory to encourage mold growth. Technicians can then thoroughly test this mold growth to determine its type and what remediation means may be most successful.
This test is helpful in situations where mold growth is resistant to treatment, if there are specific health questions or worries, or if more information is necessary to complete a thorough mold removal in Toronto.
Surface Sampling Method
Sometimes, a physical sample is needed to help determine the type or scope of a mold infestation. Some of the techniques Four Seasons uses to take surface samples are swabbing, tape lifting, dust sampling, or material removal.
Mold Inspection Kits in Toronto and the GTA
You may have seen DIY mold testing kits at your local hardware store and wondered how well they work. While at Four Seasons we always encourage a professional mold inspection to ensure your safety, DIY mold testing kits may be useful in select circumstances, such as in rarely used rooms like the attic or crawlspace. The drawback with DIY is that there is no way for you to receive definitive answers, and false positives are common. Results from DIY mold testing have caused many homeowners to underestimate a mold infestation or put off appropriate remediation — causing thousands of dollars of damage.
Professional mold testing ensures that you get prompt, accurate, science-based results, enabling you to make informed decisions about the health and safety of your home. Four Seasons Insulation has been helping families to inspect, detect, and eliminate mold in the GTA with these testing methods and more. Our professional services eliminate the guesswork and provide results you can trust. To ask us about our services and how we can help you, reach out through our contact page.