Clear Signs It's Time To Re-Insulate Your Home
Posted in Attic Insulation, on June 21, 2022
Replacing insulation may not be the first thing on your mind when it comes to home improvement, but in order to maximize comfort and efficiency in your home, it should be. If you notice an increase in your utility bills and fluctuating temperatures, it's time to consider spray foam insulation in Toronto from Four Season Insulation, your trusted insulation company in Toronto. Spray foam insulation is an excellent choice due to its durability and energy efficiency. Choose Four Seasons Insulation's superior spray foam insulation to ensure that your insulation keeps your home comfortable and utility bills low.
Not sure if it's time to upgrade to spray foam insulation in Toronto? Read for tips, so you know when to call Four Season Insulation.
Temperature Fluctuations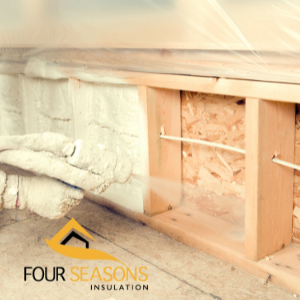 Insulation inevitably will deteriorate over time due to damage or age, making the temperatures in your home uneven and erratic. With spray foam insulation in Toronto, it will keep efficacy and performance for upwards of thirty years, keeping the temperature in your home consistent and comfortable.
If your insulation needs replacing, keep an eye on your home's temperature and climate control. During the summer months, if the upper levels of your home are significantly hotter than the lower ones, your insulation has lost its efficacy and it's in need of replacement. To be sure if spray foam insulation is right for you, contact your go-to insulation company in Toronto, Four Seasons Insulation.
Increased Indoor Air Moisture
Increased humidity in your home is a common sign that you need new insulation. Increasing moisture in the house is typically the result of normal daily activities, like cooking, washing and cleaning. In more severe cases, moisture may become excessive due to water damage or low ventilation, resulting in mold growth, typically targeting dark areas and hard to reach crevices — exactly where your old insulation is found. Once mold infiltrates your insulation, it's time for a replacement.
Unusual Drafts
Cold drafts will quickly affect your indoor comfort when insulation is insufficient, so even after you've closed all the windows and doors, it's time for a replacement. When looking for a replacement, consider spray foam insulation from Four Season Insulation. Spray foam insulation will create an environment packed with insulation, ensuring you'll no longer experience an unusually cool breeze in your home.
Increase in Utility Bills
Deteriorated insulation doesn't just create an uncomfortable environment and erratic temperatures, but it will also cost you money. With poor insulation, your heating or cooling system will work harder to achieve a consistent temperature, resulting in higher utility bills. Replacing your insulation may be a large cost, but it's a long-term investment that will lower your utility bills and increase the value of your property.
Overworked Systems
Your HVAC system may face significant wear and tear if your insulation is in dire need of replacement. Because your heating and cooling system is working overtime to create a consistent indoor temperature, it may damage or reduce the longevity of your HVAC system. While this is often a delayed effect, it can be detrimental and costly. To minimize the stress your HVAC system may face, spray foam insulation is the best choice.
Why Choose Four Seasons Insulation in Toronto
Four Seasons Insulation in Toronto provides supreme spray foam insulation that guarantees comfort and consistent temperatures in your home. Our highly skilled and experienced technicians will ensure you're satisfied with your new and improved insulation.