Buying a New Home? Signs It Needs Attic Insulation Upgrades
Posted in Attic Insulation, on June 24, 2022
If you are a homeowner, you have likely found yourself in the midst of an insulation removal job or thinking about upgrading your attic insulation in Mississauga. Having a well-insulated attic is one of the most important steps you can take to save money on your energy bills. Various insulation types can be used in your attic: loose fill, rolled fiberglass, blown in cellulose and spray foam insulation in Mississauga. Many homeowners find themselves choosing between loose-fill insulation and spray foam insulation products when it comes time to insulate their attics or basements.
Why You Need Adequate Attic Insulation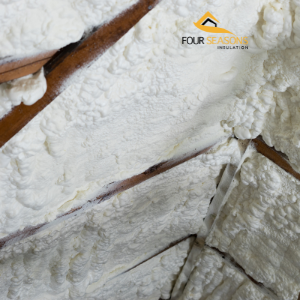 There are many reasons why you need adequate attic insulation in Mississauga.
First, it helps to keep your home warm in the winter months and cool in the summer months. This can save you money on your energy bills and make your home more comfortable overall.
Second, attic insulation can help to reduce noise from outside sources. This is especially important if you live in a busy area or have a lot of traffic passing by your house.
Finally, adequate attic insulation can help to protect your home from fire damage. By keeping the heat and flames from reaching your roof, you can minimize the amount of damage that could be caused by a fire.
Four Seasons Insulation offers professional attic insulation services in Mississauga, Toronto and surrounding areas.
Choosing The Best Attic Insulation in Mississauga
It is no secret that spray foam insulation in Mississauga is the most beneficial insulation type out there.
Spray foam insulation is beneficial for a number of reasons. One reason why spray foam insulation in Mississauga may be the best choice for your attic is because it has a higher R-value than other types of insulation. The R-value is a measure of an insulating material's resistance to heat flow; the higher the R-value, the better the insulating power. This means that spray foam insulation will better resist heat transfer than other materials, making it ideal for use in attics where temperatures can fluctuate widely throughout the day.
If you consider upgrading your attic insulation, spray foam should be at the top of your list. It provides superior protection against both heat and fire while also being more effective at reducing noise from outside sources. With its high R-value, spray foam will also help you save money on your energy bills by keeping your home warmer in the winter and cooler in the summer months.
Signs You Need To Replace or Upgrade Your Attic Insulation
If you want to keep your energy bills low and your home comfortable, it's important to have quality insulation in your attic. However, over time, attic insulation in Mississauga can become damaged or compressed, losing its effectiveness over time. If you're not sure whether your attic insulation needs to be replaced or upgraded, here are five signs to look for:
You can see exposed floor joists in your attic.
Your energy bills have been increasing even though you haven't made any major changes to your home's energy usage.
There are visible gaps in the insulation around pipes, ductwork, or other objects in the attic.
The top of the insulation is flat (compressed) instead of being fluffy (expanded).
You find evidence of pests such as rodents or insects in the attic or around the edges of insulated areas.
Contact Four Seasons Insulation Inc. today to learn how we can upgrade your attic insulation to spray foam insulation.