Is Spray Foam Insulation Waterproof?
Posted in Spray Foam Insulation, on January 06, 2022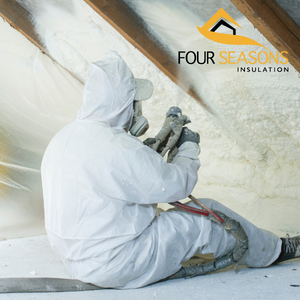 Every homeowner knows the danger of a wet attic — it can cause damage to the structure of your home and destroy your insulation. So you won't be surprised to hear that at Four Seasons Insulation, one of the first questions clients ask us about new attic insulation in Toronto is whether or not it's waterproof. Moisture resistance is one of the top reasons we recommend spray foam insulation for attics across the GTA because it's the only truly waterproof insulation on the market today. Do you want to learn more? Read on for facts about spray foam.
What Does Waterproof mean?
When it comes to home insulation in Toronto, to be certified as waterproof, a product must be able to act as an impermeable barrier. Resistance to a certain point or absorption of moisture does not count!
What Is Spray Foam?
Spray foam insulation is a fire-rated, waterproof and air barrier insulation system that creates a tight seal around your home. It is applied as a liquid material that expands on contact with your ceilings and joists. There are several different spray foam types on the market that have various benefits. Still, all products provide exceptional R-Values and can help you reduce your utility costs, balance the thermostat, and make a cozier, warmer home.
Open vs Closed Cell
There are two types of spray foam that we're asked about at Four Seasons Insulation: open cell and closed cell. Here is a quick comparison between the two:
Open Cell Spray Foam
Is lighter in composition.
Expands more.
Seals air leaks.
Is less expensive.
Is moisture permeable.
Closed Cell Spray Foam
Is denser in composition.
Expands less.
Seals air leaks.
Is the premium product.
Is moisture impermeable.
Advantage of Waterproof Insulation
Open and closed cell spray foams have different advantages and disadvantages that make them better for particular applications. However, when it comes to insulating your attic or basement, closed-cell spray foam insulation is the product you want to choose.
Most homeowners tend to find problems like mold growth, high humidity, and leaks at their homes' highest and lowest points. These problems are usually caused by various issues such as traffic flow, appliance use, and how the air moves around your home. But whatever the reason, these common issues can quickly cause property damage and become a massive headache.
Under insulated attics are also the most common cause for high utility bills — think of it like going out in January without a hat! Insulation protects your home from the weather and acts as a lid to keep all the warmth inside, preventing uncomfortable temperature fluctuations. And without that lid, warm air won't be the only thing to rise!
New attic insulation in Toronto is the best way to lower your utility bills and balance your indoor environment. To learn more about spray foam insulation or any of Four Season's products and services, reach out to our team to learn more about how we can help!