How to Remove Old Insulation from the Attic
Posted in Attic Insulation, on January 17, 2022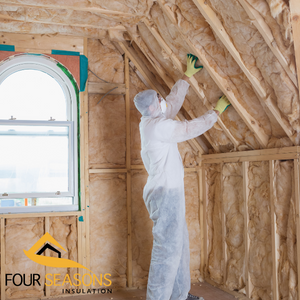 It's easy to ignore and forget your attic — after all, most of us never go up there. Over the years, old insulation can accumulate alongside other debris, pest waste, and mold growth. Attic insulation removal with Four Seasons Insulation can help you clean out your attic and improve its functionality. Old material build-up will cause problems with your heating and cooling, energy loss, and high utility bills and insulation removal will often correct those problems!
Should You Do DIY Insulation Removal?
If improvements are only a matter of clearing out the old, does that mean insulation removal is a DIY job? At Four Seasons Insulation, we don't recommend removing insulation on your own for several excellent reasons:
1. Avoid accidents
Attics are cramped, dark, and hot, increasing the likelihood of misplaced steps — and feet through ceilings. Avoid accidents and damage to the rooms below by working with a professional crew.
2. Contaminants
Depending on how old your insulation is, it may be contaminated by harmful and dangerous materials like asbestos. This cancer-causing mineral is extremely hazardous and needs to be carefully removed.
3. Pests
Attics often harbour unwanted guests, who leave feces, carcasses, and other nasty debris.
4. Cleanliness and safety
Insulation can be messy without the proper training, tools, and procedures to keep cross-contamination and mess to a minimum.
How Long Does Insulation Removal Take?
The time needed to perform attic insulation removal varies depending on the size and scale of the job. A small house with a straightforward attic may be finished in half a day, but more extensive attics with gables, curves, and architectural details may take longer. If we uncover pests or contaminants, we may have to spend a bit longer to ensure safe removal and clean-up.
The Equipment We Use
At Four Seasons Insulation, we arrive at your home with a full complement of tools and equipment to safely and securely remove old attic insulation. We bring with us materials for containing our worksite and disposing of material (we promise we won't leave a mess!). Our technicians use industrial quality vacuums and are highly trained in the latest insulation installation and removal techniques. Furthermore, we've worked in all types of attics and conditions, giving us valuable on-the-job knowledge that enables us to recognize existing and future issues that may affect your insulation. This preventative step ensures that whatever you replace your old insulation with will last decades and perform at its best.
Four Seasons Attic Insulation Removal Specialists
If your home is drafty and cold or your monthly utility bills have skyrocketed, replacing your attic insulation can make a big difference. Attic insulation can last many decades but is often weakened by pests, leaks, or ventilation problems — a complete attic insulation removal will eliminate these problems and leave you with a clean slate. To learn more about Four Seasons Insulation or our attic insulation options, get in touch with our team using the contact page.