Busting Myths Around Attic Insulation in Toronto
Posted in Attic Insulation, on October 19, 2021
Attic insulation in Toronto provides your home with year round-benefits, but sadly, there's a lot of online misinformation and myths about insulation. Four Seasons Insulation is one of the GTA's premier home insulation companies, and we're here to bust some of these common attic insulation myths! Upgrading your home insulation in Toronto helps save you money, improve your energy efficiency and more — let's learn more about why it's a smart renovation and why you should do it.
Myth 1: The Cost of Attic Insulation Isn't Worth It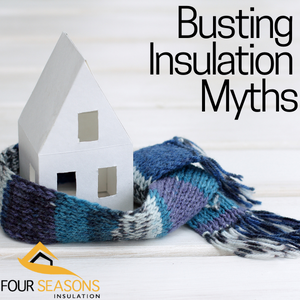 It's true that attic insulation can cost the same as many other, more visible home renovation projects. While a nice new bathroom sink or kitchen range has everyday appeal, attic insulation is busy working for you 24/7 and can save you money in the long term.
One of the primary ways we lose money at home is through energy leakage. We may not see it or feel it, but our homes leak small amounts of conditioned air throughout the year. And as anyone with a leak cup knows, it can quickly add up! Attic insulation can help slow or eliminate air leakage that adds hundreds of dollars to your annual heating and cooling bill. Your new home insulation quickly pays for itself — so you can have that new kitchen range too!
Myth 2: Warm Climates Don't Need Home Insulation
Many Four Seasons Insulation customers think that attic insulation in Toronto is only for our cold winters — which isn't true! Attic insulation brings year-round benefits to your home by preventing heat transfer.
We like to compare attic insulation to a hat: in the winter, our woolly toque helps to keep heat in, and in the summer, our ball caps shade us from the heat of the sun. Attic insulation does the same thing, keeping the heat of the summer months from penetrating our air-conditioned homes. Upgrading your attic insulation often results in less air conditioner use, too — your home stays naturally cooler because it's better protected from the sun.
Myth 3: Attic Insulation Prevents Seal Leaks
The attic is one of the major areas that conditioned air leaks from our home, and many folks believe that adding new attic insulation solves this problem in one go. This is true — but only for some types of insulation. Materials like blown-in attic insulation or foam boards do not provide an airtight seal, and need additional products to be air-tight.
However, spray foam insulation does prevent seal leaks, eliminating air and moisture transfer between the inside of your attic and the outdoors. Using spray foam insulation in the attic is an excellent choice for homeowners looking for long-term value and energy efficiency since it's a one-time job.
Have you heard a story about home insulation in Toronto that seems too good to be true? Reach out to the Four Seasons Insulation team, and we'll help you learn how new attic insulation can save you money and improve your home environment.