When Is The Best Time for New Attic Insulation in Mississauga?
Posted in Attic Insulation, on September 01, 2022
While attic insulation in Mississauga may last many years, there comes a time when it passes its peak. When that happens, the efficacy of your attic insulation will degrade and significantly throw off the energy-efficiency in your home. From climate control and utility costs to indoor air quality, attic insulation in Mississauga must be tended to for the sake of your home's well-being and your family.
If your attic insulation is nearing its end, here are some valuable tips on when you should re-insulate your attic.
The Time of Year and Season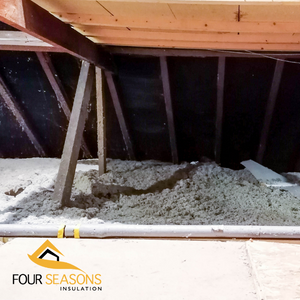 The best time to replace your attic insulation is just before fall. The end of August to the middle of September provide cooler temperatures and drier air than the middle of June and July. Having dry air is essential when it comes to replacing the insulation. With humid air, especially during the summer months, moisture could become trapped in your insulation, causing it to be less effective. In addition, a layer of moisture trapped in your insulation will result in mold growth that may quickly spread throughout your home. Aside from worrying about mold infestations, replacing your insulation at the end of summer will prepare your home for the colder months. With brand new attic insulation in Mississauga from Four Seasons Insulation, you'll be sure to stay warm for the winter.
Renovating Your Home
If you're renovating your home, it's a good idea to upgrade your attic insulation simultaneously. If you're taking on extensive renovations, like changing the layout of your home or adding rooms, it's wise to replace your insulation. This way, you can ensure that your home — and your new rooms — are well insulated following your project.
Roof Upgrades
When you decide to repair your roof, it's a good idea to get an assessment of your current insulation. This way, your insulation, and roof can be repaired simultaneously, and you can guarantee that your attic and roof are in excellent shape.
Signs of Poor Attic Insulation Performance
While insulation lasts upwards of 15 years, there are chances it may degrade and lose its efficacy early on in its lifespan. There are a few ways to identify signs of degradation and poor attic insulation performance. For one, if you notice inconsistent temperatures throughout your home, such as the upper level being hot and the lower level being cold, your insulation may need to be upgraded. Another significant sign is mold growth in your attic and other parts of your home. When attic insulation loses its efficacy, it's no longer able to control the moisture that enters your home, causing the perfect conditions for mold to fester and flourish. Aside from temperatures and mold outbreaks, keep an eye out for water damage on the roof, pest infestations, or if your insulation has deteriorated. If it's friable, it's time for an upgrade from Four Seasons Insulation.
How Four Seasons Insulation Can Help
When it comes to replacing your attic insulation, look no further than Four Seasons Insulation, a professional attic insulation company servicing the Greater Toronto Area. Our team of certified and experienced professionals will replace your attic insulation to keep your home balanced and comfortable for years to come.