What's The Best Attic Insulation For Your Mississauga Home
Posted in Attic Insulation, on June 15, 2021
As incidents of extreme weather increase, protecting your home with attic insulation in Mississauga & the GTA is one of the best ways to control your indoor temperatures and lower your risk of water damage. Working with a home insulation company like FourSeasons Insulation to make positive changes to your attic has several benefits — improvements up above can have a ripple effect throughout the house.
Before You Shop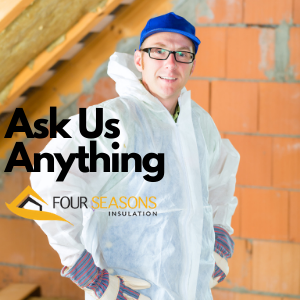 When you're looking at attic insulation, there are a few things you'll want to know. The first is the size of the space that needs insulation.
Many older homes in Mississauga have insulation that's ten or twenty, even thirty years old, and well below modern safety and building code standards. FourSeasons can help you determine what stays, what goes, and how big an area should be covered in insulation to get you the maximum returns.
R-Value is an industry term that a home insulation company will use to discuss how well insulation materials resist heat flow. The higher the value, the better an insulating material will be, and there are differing municipal recommendations that guide attic insulation in Mississauga & the GTA. Generally speaking, attics need somewhere between R-30 to R-49 but may go higher, like R-60, if you live in an area that's more exposed to the weather.
Materials to Look For In Insulation
There are scores of different insulation solutions on the market — how do you know what's suitable for your home? Some of the common materials used in modern insulation include:
Cellulose (made from recycled plant fiber)
Fibreglass
Mineral wool (created from industry by-products)
Liquid polyurethane (also known as spray foam insulation)
Polystyrene
The best insulation for your home's needs and your budget should be determined together with your insulation specialist. At FourSeasons Insulation, we work closely with our clients to provide them with a product that will make quality improvements that suit their home's needs. Because each house has unique needs, the type of insulation often matters more than what materials it is made of.
Types of Attic Insulation
The materials that makeup insulation can be applied in many different ways. For example, cellulose and fiberglass are both used in a blown-in application, but only fiberglass is available as batt-style insulation.
The type of insulation also affects where you can put it. Some types of insulation suit wall cavities, while others suit open spaces. When it comes to attic insulation, we like to recommend spray foam insulation. This type of insulation comes as a liquid that expands upon contact, and it's fantastic for sealing gaps and insulating the variable dimensions of attics. Where batt or blanket-type insulation struggles with small spaces, curves, or piping, spray foam insulation is much more flexible and can provide a much higher degree of coverage. Unlike older styles of insulation, spray foam is pest-resistant and has high R-Values, making it an excellent choice for a variety of uses.
FourSeasons Specializes in Attic Insulation
At FourSeasons Insulation, our focus is attic insulation in Mississauga & the GTA. This specialization has given us hundreds of hours of experience inspecting attics for mold growth, identifying ventilation needs, and solving common problems like air leaks. We're passionate about insulation because we've seen firsthand how it can make a home more comfortable and lower heating and cooling bills by improving energy efficiency. To have your questions about attic insulation answered, get in touch with our team — we'd be pleased to help you.