How Spray Foam Insulation Eliminates Air Leaks
Posted in Spray Foam Insulation, on July 24, 2022
Are you tired of paying outrageous utility bills just for your air to leak? Spray foam insulation in Toronto allows homeowners to live comfortably by sealing any cracks or crevices that permit air from escaping your home. When choosing an insulation company in Toronto to install attic or basement spray foam insulation, you'll want to find a certified and experienced team. At Four Seasons Insulation, we have expert technicians who have years of experience under their belt. Our mission is to provide our customers with quality insulation that lasts for years.
Read on to learn how spray foam insulation eliminates air leaks.
What Is Spray Foam Insulation?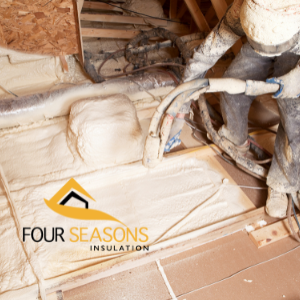 Spray foam insulation is a two-part mixture of isocyanate and polyol resin. When these are mixed together, they create polyurethane and expand in size. This allows gaps to be adequately sealed, creating a vapour and moisture barrier. This foam sticks to wood, concrete, and other surfaces when sprayed into wall cavities, footings, attic cavities, roof tiles, heating equipment, and under basement slabs. Insulation companies in Toronto install spray foam insulation for new construction and remodelling jobs. Whether you have an existing home that needs new insulation or you're moving into a new home, spray foam insulation is your best bet in providing quality insulation.
How Spray Foam Insulation Prevents Air Leaks
One of the reasons spray foam insulation in Toronto is so popular is because it prevents your air conditioning from leaking. If open cavities and access are available, spray foam insulation can be installed. Spray foam insulation can seal the most minor cracks and holes compared to other types of insulation. When installed by professionals, the insulation can resist heat transfer, provide a tight building envelope, and decrease your energy bills. At Four Seasons, our highly trained technicians install spray foam insulation in any areas needed, reducing the attic and basement air filtration.
Benefits of Spray Foam Insulation
Spray foam insulation is popular among many homeowners in the GTA and surrounding areas as the benefits are endless. Unlike conventional insulation materials, spray foam fills cracks, crevices and gaps on installation day, and it won't compress, droop, or settle over time. In addition, spray foam insulation allows for your air to be thoroughly distributed throughout your home, allowing for better air quality. When cracks are sealed, no air can escape, saving you money on your utility bill. Choose Four Seasons to install spray foam insulation in your home so you can start living comfortably.
Why Choose Four Seasons Insulation
Four Seasons Insulation is your top choice for spray home insulation in the GTA and surrounding areas. With years of experience, we know what it takes to provide excellent service that will last. From our fantastic customer service to the installation technicians, we pride ourselves on having a team that supports you throughout the process. We are certified CUFCA - Canadian Urethane Foam Contractors Association - an organization that assures homeowners of safe products, trustworthy contractors, and health standards.
Choose Four Seasons for spray foam insulation.