How Spray Foam Insulation Creates a Vapour Barrier
Posted in Spray Foam Insulation, on August 18, 2022
Did you know that spray foam insulation in Toronto not only boosts energy efficiency and reduces energy consumption but also acts as a vapour barrier? Spray foam insulation is one of the best products on the market, providing benefits surpassing most other insulation products. If you're looking to start saving on your utility bills, reach out to an insulation company in Toronto for adequate spray foam insulation. The technicians at Four Seasons are highly experienced and skilled with spray foam insulation installations, providing our customers with the best possible service.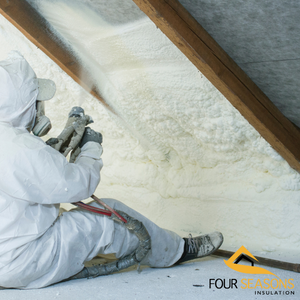 Continue reading to learn how spray foam insulation creates a vapour barrier.
What is a Vapour Barrier?
A vapour barrier is a material used in building construction for walls, ceilings, and floors to prevent moisture from entering the insulation. In a typical home, vapour barriers can improve energy efficiency and comfort while fending off moisture and dampness to prevent mold and mildew outbreaks. Damage from water condensation due to water vapour will quickly spell trouble for your home, causing havoc on sturdy building structures and insulation. It's a good idea to find an insulation company in Toronto that can remove old insulation and effectively install new spray foam insulation with an incorporated vapour barrier.
How Spray Foam Insulation Creates a Vapour Barrier
Spray foam insulation in Toronto is a state-of-the-art polyurethane product that sufficiently adheres to any surface and is one of the most energy-efficient insulators on the market. It effectively seals and insulates your attic, basement, or walls to close cracks and crevices. When properly installed, spray foam insulation acts like a vapour barrier because it functions as an air barrier, vapour barrier, and thermal barrier. Vapour barriers were traditionally used to reduce the cost of high utility bills and are continuously used to prevent condensation from entering your insulation.
Why Are Vapour Barriers Needed For Insulation?
Vapour barriers are needed for insulation to adequately keep moisture and water out of the specific areas. When moisture and humidity are present, mold and mildew will quickly form, imposing health risks to anyone in the home. The barrier's purpose is to prevent water vapour from reaching walls, ceilings, attics, crawlspaces, basements, and roofs where it can condense. Since spray foam insulation is a closed cell spray foam, it doesn't need a vapour barrier. Whereas other insulation requires a vapour barrier to properly function.
Choose Four Seasons Insulation
If your insulation is old or damaged, it's advised to choose a company that offers high-quality spray foam insulation with a built-in vapour barrier. Four Seasons Insulation is your top choice for premium material and services in Toronto and the GTA. With years of experience removing and installing spray foam insulation, you can count on us to complete the job effectively. Our installers are highly trained and members of CUFCA - Canadian Urethane Foam Contractors Association - an organization assuring homeowners of safe material use, adequate health standards, and ethical contractors. Get back to living comfortably with Four Seasons Insulation in Toronto.