Get Rid of Mold in Brampton for Good
Are you and the people around you feeling sick? Is there an earthy odour you can't mask?
You may have a mold infestation.
Mold is more than a nuisance to homes and commercial properties throughout the city. The presence of mold signifies a larger problem that needs to be addressed. The longer it takes to get mold removal in Brampton after you notice the signs of an infestation, the worse the effects will be.
Do You Have Mold?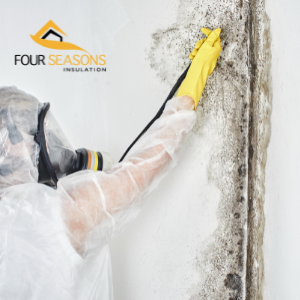 The signs of mold inside your property can be easy to identify if you know what you're looking for, especially if two or more indicators are present simultaneously.
Water Damage (Paint Peeling or Bubbling)
Black, White, Green, or Brown Staining
Strong Earthy or Musty Odour
Reduce Climate Control
Fuzzy Growths on Construction Materials
Excess Moisture
Persistent Cough or Allergy-Like Symptoms
Unfortunately, in many cases, the visible signs of mold will show up days or even weeks after the infestation has begun to flourish. For the best mold detection, contact Four Seasons Insulation for mold inspection and mold removal in Brampton.
The Effects of Mold Contamination
Mold detection and mold remediation indoors are vital to the health of your property and the people in it. When mold starts to grow, it can wreak havoc if not stopped effectively.
Mold & Illness: extended exposure and contact with mold can make you sick. The symptoms are often confused with seasonal allergies or a cold, but with mold, the effects are long-lasting and unresponsive to normal cold medication. The health effects of mold range from mild to serve, including cough, rashes, eye irritation, headaches, and nausea.
Mold & Your Property: Mold is attracted to moisture and organic materials. As it grows and expands, it finds its way into porous wood beams, flooring, and fabrics (carpets & couches), damaging the materials around it. When an outbreak is severe, it can completely ruin attic insulation in Brampton, drywall, and wood support beams.
To stop an infestation in its tracks with mold remediation, contact Four Seasons Insulation. Our expert team will eliminate mold fast.