Professional Attic Insulation Services in Vaughan
When it comes to home energy efficiency, homeowners often focus on upgrading the "living areas" of their home. As it turns out, the attic is often overlooked when it comes to home energy, and it's a big mistake. For homeowners looking to upgrade their home insulation in Vaughan, the attic should be a primary target.
Homeowners upgrading their attic insulation in Vaughan will realize the benefits immediately. With a properly sealed and insulated attic, the benefits are noticeable around the year – from much-improved energy efficiency to a more comfortable indoor environment. The key, of course, is to install the best quality products.
In Vaughan and across the GTA, the Four Seasons Insulation experts offer a range of professional attic insulation solutions. We strive for 100% customer satisfaction, and we do it with quality insulation products, a high standard of installation work, and the best possible personalized customer service.
Quality Attic Insulation Provides Benefits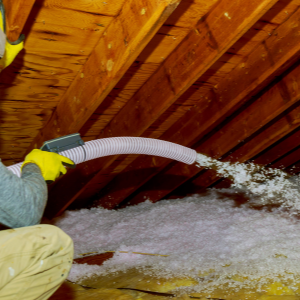 In order to provide benefits during winter and summer, attic insulation must perform effectively. Most importantly, quality insulation will allow the HVAC system (heating and cooling) to operate in balance and consume less energy. Homeowners upgrading their home insulation in Vaughan (and installing attic insulation in Vaughan) would do well to hire professionals.
When the attic and roof cavity are comprehensively insulated, the collective benefits affect the entire home. The key is to install a high-quality product and ensure the highest standard of work.
airflow will be prevented in and out of the attic
the HVAC system will perform more efficiently
moisture accumulation will be greatly reduced
air leakage will be prevented season to season
air circulation will be improved around the home
The most significant benefit of a well-insulated attic and roof is the reduced utility bills. It's because winter heating and summer cooling use the most energy in a residential home. It means that saving from 15-20% on the annual cost of heating and cooling can make a big difference throughout the year.
Installing Attic Insulation in Vaughan
In the attic, the highest R-Value is achieved with spray foam insulation. This product dramatically increases energy efficiency, significantly reduces energy usage, and thus reduces the costs of heating and cooling every year.
Spray foam is unique, with many advantages over other insulation products. In attics and roofs, the professionals agree that spray foam provides the most energy efficiency – it seals and insulates more efficiently than any other product.
In an attic space, spray foam is remarkably effective – it effectively seals and insulates all of those awkward gaps, crevices and cracks that are found throughout. Unlike other insulation products, spray foam doesn't need air sealing.
With spray foam insulation, the aim is to create a tight insulation envelope. The finished space is air-sealed and thermally insulated at one time. Spray foam is multi-faceted – it's an air barrier, vapour barrier, and thermal barrier.
Walltite ECO™ is the Product of Choice
At Four Seasons Insulation, Walltite ECO™ has become the product of choice for the attic. It exceeds the standards established by the National Building Code of Canada and is a preferred product by home energy professionals.
Walltite ECO™ is branded with EcoLogo™ Certification and is ideal for homeowners who are focused on environmental sustainability. It's an insulation product that has less harmful environmental impact than other products.
For home insulation in Vaughan, Walltite ECO™ creates a super-tight insulating "envelope." It effectively prevents heat transfer and blocks air movement. Finally, it measurably improves energy efficiency in the house.
It's Best to Hire an Insulation Professional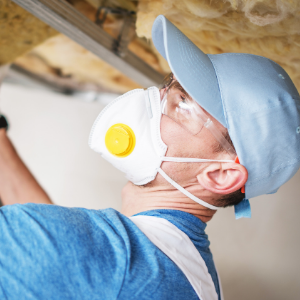 When insulating the attic, it makes sense to hire a professional contractor. A professional assures homeowners of a high-quality product and a high level of workmanship. More than that, the work is done right the first time – the attic is adequately sealed and effectively insulated.
A professional insulation contractor begins with a thorough assessment of the attic/roof and a detailed work description. This will include suggestions for repairs and retrofits and viable recommendations for an insulation product that would best suit the needs while delivering optimum performance.
Why Choose Four Seasons Insulation
Serving the entire GTA, Four Seasons Insulation provides a full range of insulation services with everything under one roof. Our focus is on high-quality products, superior workmanship, and excellent customer service.
Four Seasons installers are trained and experienced, installing both spray foam insulation and blown-in insulation (depending on customer need). We are fully insured through the Workplace Safety & Insurance Board.
Spray Foam Insulation
Four Seasons installers are highly experienced with spray foam insulation. We are members of the Canadian Urethane Foam Contractors Association, assuring residential and commercial customers of safe product installation, qualified contractors, and the highest standards.
Quality Attic Insulation
Four Seasons Insulation installs new attic insulation for improved energy efficiency and home comfort. It all translates into significant savings on winter heating and summer cooling. And with high-quality products installed, the annual savings contribute to an excellent return on investment.
Old Insulation Removal
With insulation removal, we assess the extent of removal required and recommend the best way to re-insulate the space. Simultaneously, we identify energy efficiency issues that need a remedy and suggest the most appropriate upgrades, improvements, or retrofits.
Attic Mold Removal
Because mold thrives in a high moisture environment, the attic is an ideal home for an outbreak. At Four Seasons Insulation, trained technicians inspect the attic for possible mold outbreaks and provide professional mold removal when required (with no chance of recurrence).
For Attic Insulation in Vaughan, Count on Four Seasons Insulation
Homeowners who are ready to install home insulation in Vaughan will benefit from the team at Four Seasons. Our people are highly qualified, and our work is completely guaranteed.
Because every home is different, we recommend what's best to suit the need. And today, during the COVID 19 pandemic, we're taking additional precautions to protect workers and customers.
Learn more about attic insulation in Vaughan by contacting us at 416-727-4181 or visit our website at www.4seasonsinsulation.ca to arrange for an in-depth home energy assessment.
Read More About Our Mold & Insulation Services In Vaughan